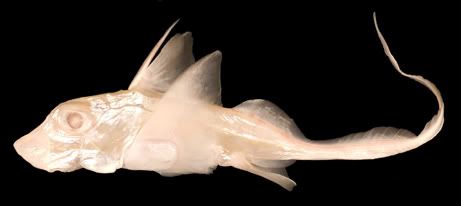 September 25, 2007—This ghostly animal is a completely different kettle of fish.
The albino white-spotted ratfish caught this summer during a marine survey in Washington's Puget Sound is the first albino fish ever spotted by local scientists.
Ratfish, bottom-dwelling relatives of skates and stingrays, are usually brown with white spots that act as camouflage.
The fish probably owe their name to their exceptionally long tails and rodentlike teeth that crush up clams and other prey lurking in the mud.
"They're pretty ugly," John Reum, the University of Washington doctoral student who caught the fish, told the Associated Press news agency.
The foot-long (30-centimeter-long) pearly white female seen here had pale green eyes and was estimated to be about two or three years old—just an adolescent.
"This animal would stand out like a beacon," fisheries professor Ted Pietsch told the AP. "I don't know why it wasn't eaten long before."
But the rare creature's luck ran out—it died shortly after capture.
It now sparkles as the only albino specimen in the university's collection of 7.2 million fish.
—Christine Dell'Amore
HO/Associated Press/University of Washington
Source:
National Geographic
Sorry...haven't updated this thing a while. Well there you go. :]